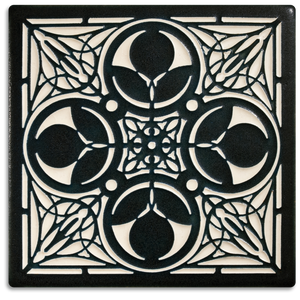 Believing the architect should create total environments, Frank Lloyd Wright's designs included art glass windows, furniture, and lighting. 
This art tile is adapted from a wood door grille design found in the Nathan Moore House, located in Oak Park, Illinois.
Motawi Tileworks is an official licensee of the Frank Lloyd Wright Foundation. A portion of the purchase price is returned to the Foundation, which strives to transform people's lives through the living experience of Frank Lloyd Wright's body of work. Actual tile size: 5-13/16" x 5-13/16" x 5/8" deep
Nawal Motawi had a start of handcrafting her work out of her own home garage in 1992 in Ann Arbor. Still handcrafting tiles but now at a larger scale with a team of 30 artisans to craft each piece. Inspired by nature, Charley Harper and Frank Lloyd Wright. Nawal has created a distinguished tile line. Each one wholeheartedly made by hand in Michigan.