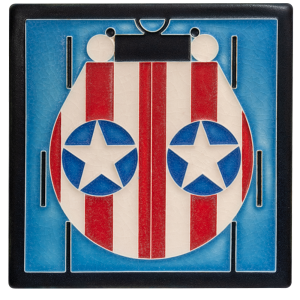 "All the world loves a ladybug. They're insect friend Number 1." - Charley Harper
Mid-century modern meets Motawi mastery in these tiles based on the work of celebrated wildlife artist Charley Harper (1922-2007), a self-described "minimal realist."
Actual tile size: 5-13/16" square
Tiles are 5/8" thick and have a notch at the back for hanging.
Nawal Motawi had a start of handcrafting her work out of her own home garage in 1992 in Ann Arbor. Still handcrafting tiles but now at a larger scale with a team of 30 artisans to craft each piece. Inspired by nature, Charley Harper and Frank Lloyd Wright. Nawal has created a distinguished tile line. Each one wholeheartedly made by hand in Michigan.