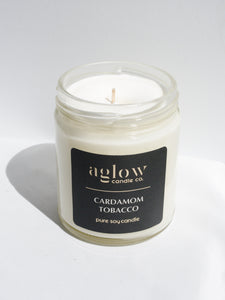 Blends of spice, floral, ginger, with the earthy and woodsy tones of cured tobacco.
100% pure soy wax with cotton wicks.
Clean burn for 40-50 hours. 
Phthalate free fragrance. 
9 oz candle in recycled glass jar.
Measures 2.875" x 3.5"
When their favorite candle company planned to close, a Wisconsin family stepped up to keep the tradition to continue.  Dedicated to high quality and clean burning candles, each candle is hand poured in small batches to ensure consistency and quality. Hand poured in Colorado with Wisconsin roots.