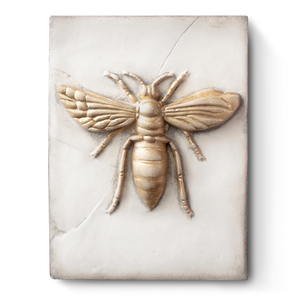 "This tiny visitor, messenger of change,
bestirred from winter's dream to the work of a new season,
and the passing of another page."
6x8 in.
Made of high quality porcelain like plaster, Sid Dickens Memory Blocks are all hand crafted by a team of artisans. Plaster is poured into molds to harden and then once dried they are placed into a kiln to get out remaining moisture to ensure a lasting and solid tile. Among techniques used to adorn the tiles are glazing, staining and gilding. Using paints and coatings that are made of sustainable materials and water based, artisans will hand paint or stencil each individual tile. While the collections remain cohesive, each tile holds its own unique attributes that signify their hand built beginnings. Made in Vancouver, Canada.