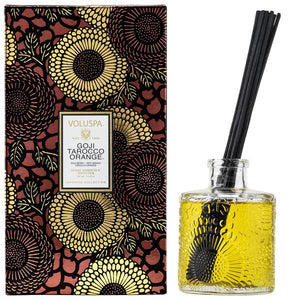 With notes of tarocco orange, ripe mango and goji berry delivering a refreshingly clean yet layered scent. The embossed iconic Voluspa glass jars illuminates and reflects. Flipping the 10 fine gauge reeds every other week ensure the scent to always be lively. The diffuser oil offers a fill of 3.4 fl oz with 4-6 months of fragrance life. 
Measures 2.25" x 3.75" 
Hand poured in the USA. These are tried and true fragrances for a home with a signature scent. Always free from parabens, sulfates and phthalates. Never tested on animals. Voluspa always deliver a welcoming & lasting scent.